As we get older, it's normal for our eyesight to become weaker. But, there are other factors that contribute to poor vision. For example, overly sagging skin on the upper eye may obstruct your line of sight. A heavy or descending brow can lead also lead to vision problems. Although eyelid lifts (blepharoplasty) are primarily done for aesthetic reasons, the surgery can have medical benefits as well.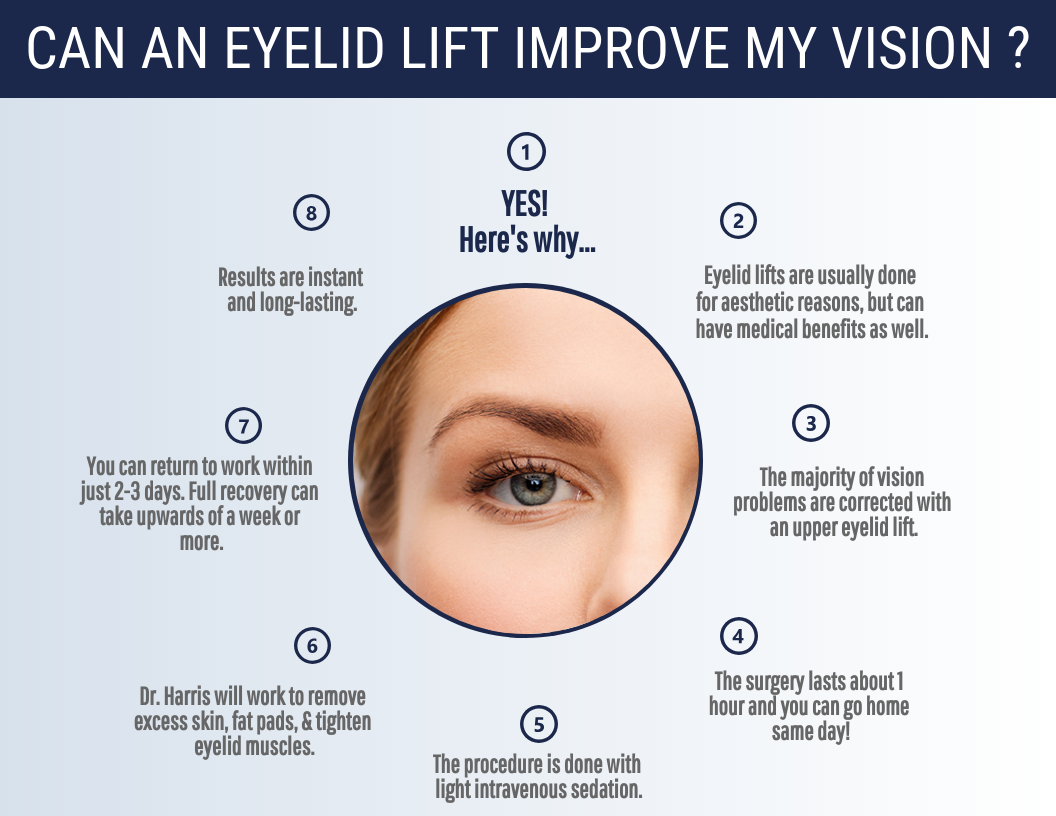 Patients with loose, sagging skin or weakened eyelid muscles as a result of aging, may want to consider enlisting the help of eyelid surgery. You may be a good candidate for either an upper or lower blepharoplasty (or both). However, the majority of vision problems are corrected with an upper eyelid lift.
Eyelid lifts are a relatively straightforward surgery and are done as an outpatient procedure allowing you to go home the same day. Generally, an upper lift is done with light intravenous sedation. Over the course of about 1-hour, Dr. Harris will meticulously work to remove excess skin, thin fat pads, and tighten underlying eyelid muscles.
Immediately following your blepharoplasty, your vision may be slightly blurry. It's important not to strain your eyes several days post-op to encourage faster healing times with less potential complications. In most cases, you can return to work within just 2-3 days. However, full recovery can take upwards of a week or more.
Results are instant and long-lasting. You may experience redness and swelling several days post-procedure which can mask the final outcome. As swelling subsides, you'll notice better quality vision and a more relaxed, youthful appearance. Most men and women only need one eyelid lift in their lifetime.
Dr. Brady Harris is a highly-skilled, triple board-certified surgeon with extensive training in facial rejuvenation procedures. At your in-person consultation, he will complete a full facial evaluation and determine your candidacy for an eyelid lift. In some cases, Dr. Harris may also suggest combining a brow lift alongside your eyelid lift if your brow droops significantly.
Take the Next Step
Ready to learn more about Eyelid Surgery? Schedule your confidential consultation with Dr. Brady Harris at Image Surgical Arts today. Simply fill out the contact form on this page or give us a call or text at 615-499-4224.
Ginger Lizardo, RN
25/06/2020 | 3 MIN READ