BOTOX® Cosmetic has already helped over 11-Million men and women achieve a more youthful-looking appearance. The minimally-invasive procedure has a wide variety of FDA-approved uses making extremely versatile. BOTOX® is safe, effective, and virtually painless.
Anyone can benefit from BOTOX® Cosmetic treatments at Image Surgical Arts. Let's take a closer look at how the procedure can change your life for the better in 2019 and beyond.
#1: Anti-Aging without Surgery
BOTOX® is a minimally-invasive procedure that's done with a simple in-office visit. Patients can easily fit treatments into their daily routine making it highly-accessible for nearly everyone. Quickly reduce visible signs of aging without the need for more invasive surgical procedures. BOTOX® can address forehead wrinkles to Crow's feet, under-eye bags, and nasolabial folds.
#2: Stop Excessive Sweating
There's good news for men and women who can't keep their sweating under control. When injected, BOTOX® Cosmetics stops the communication between nerves and sweat glands leaving you cool, and dry. If you've tried medical-grade antiperspirants to no avail, BOTOX® might be the solution you've been looking for.
#3: Prevent Premature Aging
BOTOX® isn't just for combating visible signs of aging. It also makes a great preventative care treatment. BOTOX® Cosmetics helps reduce the appearance of dynamic wrinkles that are often caused by repetitive facial movements. When used correctly, BOTOX® prevents early onset wrinkles from becoming more severe.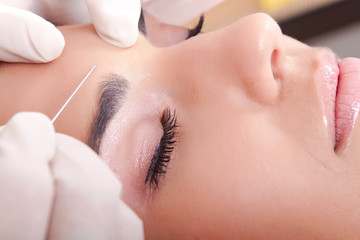 #4: Give Yourself A Confidence-Boost
Whether you're looking for a quick pick-me-up before a big event or ongoing anti-aging treatments, BOTOX® is the tool to give you a boost in self-confidence. The minimally-invasive treatment can have dramatic effects on your overall appearance. Feel more comfortable in your own skin with regular BOTOX® treatments.
#5 – Appear More Refreshed
Botox can help you appear more refreshed by helping open up the eyes for a more rested appearance. This can give you more confidence to take on anything life sends your way!
Take the Next Step
Ready to learn more? Schedule your BOTOX® Cosmetic consultation with Dr. Brady Harris or our talented injectors at Image Surgical Arts today. Simply fill out the contact form on this page or give us a call or text at (615) 499-4224.
*Individual results may vary.
Ginger Lizardo, RN
22/03/2019 | 8 MIN READ